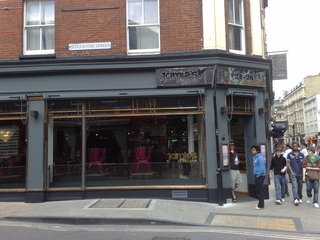 © Dominic Hargreaves
Jamie's Italian
24-26 George Street

OX1 2AE

Mo-Th: 1200-2300; Fr-Sa: 1200-2330; Su: 1200-2230
Jamie Oliver's new Oxford enterprise, this restaurant opened at the start of June.
Somewhat annoyingly, unless you are a party of 8-10 people, they don't take reservations, so there's typically a queue (this might become more bearable once the novelty has worn off). Unless you go before 6 or after 9, you should expect to stand outside for at least half an hour, although they do occasionally come out and offer an olive and the menus.
Once you come in you are first led to the bar (this might differ at less busy times), the expectation being that you either order your wine then or have a pre-dinner drink. Prices are acceptable, (£4-£5, June 2008).
The interior is quite pleasantly decorated, but can be noisy. There's a ground floor bit and a basement bit (next to the kitchen, currently with the chance Gennaro Contaldo will be cooking). The ground floor tends to shake quite a lot as people go up and down the stairs, so if given the option you might want to choose to sit downstairs.
April 2009 Apparently expanding next door into what was Avid Records.
September 2008 (Anonymous)
My friend and I visited Jamie Olivers restaurant on a weekend stay in Oxford and had a fabulous time, we were shown to the bar for a drink first until a table was available but only had a wait of around 15 minutes, if that. The staff were very polite and friendly. The only thing we didn't like was if you want to pay be credit/debit card at the end of the meal you have to leave your card behind the bar until you need to pay so we paid by cash instead.
The food was delicious and very reasonable and you have a choice of either small or large portions which is a fabulous idea and the menu is quite varied. The olives are to die for, very green and very fresh.
All in all we had a lovely time and highly recommend a visit.
August 2008 (Socks)
We arrived here at about 8.30pm on a Sunday evening and were asked to wait at the bar - within 2 minutes, before we'd even picked drinks, we were told our table was ready - so basically no waiting at all! Food was delicious, and particularly recommended are the polenta chips - wonderfully crisp and deliciously flavoured. Approximately £80 for two, having three course, a drink while we browsed the menu and house wine during the meal.
June 2008 (ComradeP)
Food selection is quite small, but well thought-out. "Planks of meat" seem to be most popular (wooden boards with Italian cured meats and hams, some olives and vegetables, £6.50 per head). Try the basket of bread (fantastic balsamic vinegar, £3.50). Pasta dishes mostly come in two sizes: as a 'primi' version (something between a proper starter and a main, intended to be followed by something bigger) at around £5-6, or as a main meal at around £8-9. Try the truffle tagliatelle or the sausage pasta (I forget what it is, but it's highly unusual).
The 'secondi' (mostly grilled main dishes) are priced around £10-15, but do not include a side dish, so you need to budget another few pounds for chips (very nice!) or something similar. We had the salmon and the half-chicken, both were very nice.
Wine selection is limited with an Italian bias, but the one we had (Sauvignon Blanc) was quite nice. Standard restaurant prices.
Waiters currently seem a bit lost -- we were almost landed with the bill of the people previously at our table, he forgot to bring our wine and our pasta dishes, seemed to encounter a card reader for the first time etc.
All told we spent £85 without desserts, but including pre-dinner drinks, a bottle of wine and service. While this is a lot between two, it does reflect an antipasti/primi/secondi meal; if you just have a pasta main you can get away with significantly less, but if you're going there you're probably treating yourself already, so you may as well go all the way.
See also:
OS X co-ord: 451139 OS Y co-ord: 206367 (Latitude: 51.753204 Longitude: -1.259074)