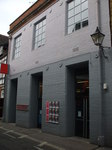 Modern Art Oxford
722733

722573

30 Pembroke Street

OX1 1BP

Tuesday to Saturday 10am to 5pm, Sunday 12pm to 5pm
Modern Art Oxford (formerly MOMA, Oxford) has a national and international reputation for the quality of its pioneering exhibitions of modern and contemporary art.
Temporary exhibitions are staged every 8-10 weeks. Admission is free.
There's a shop and a cafe downstairs that offers good food where live music concerts, film screenings and poetry events take place. The cafe is extremely spacious and (not unrelatedly) baby- and child-friendly.
OS X co-ord: 451260 OS Y co-ord: 206063 (Latitude: 51.750459 Longitude: -1.257365)