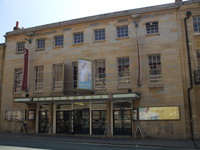 Oxford Playhouse
305305

Beaumont Street

OX1 2LW
One of the bigger and more well-equipped theatres in Oxford (the New Theatre is bigger), this is where the bigger student productions and professional productions tend to be.
If they don't have the large-stage/orchestra pit, then row D gives you additional legroom, and is in the mid-priced band. Otherwise the seating will start at row E.
They have a very nice online booking system that lets you see which seats are taken, and select the ones that you want.
The café-bar claims to offer free wifi.
OS X co-ord: 451121 OS Y co-ord: 206504 (Latitude: 51.754437 Longitude: -1.259314)